The royal couple were hosted by Surfers Against Sewage, the Marine Conservation Society and Clean Cornwall, who, collectively, have enlisted the support of well over 30,000 people to clean up beaches around the UK in the past year. Organisations, communities and businesses involved in beach clean ups, plastic waste research and developing solutions to reduce litter at source will share their experiences and ideas with Their Royal Highnesses at the beach.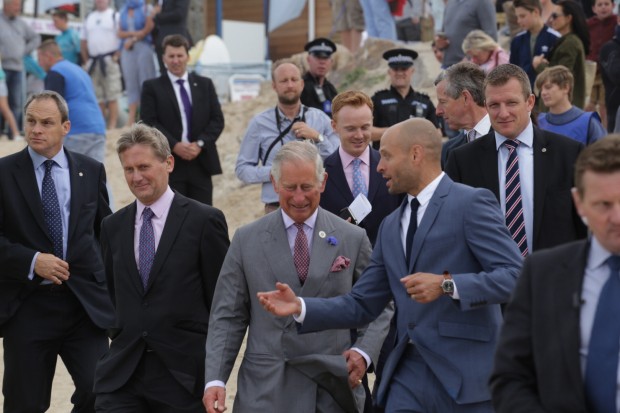 HRH The Prince of Wales has long taken an interest in the health of the marine environment and the need to address waste. The Prince of Wales's International Sustainability Unit has attempted to integrate conversations on marine plastic waste with those focusing on the circular economy at a global level. The activities taking place in Cornwall showcase what can be done to address waste locally.
Cornwall has some of the most beautiful beaches and countryside in the UK. However, all too often these are blighted by litter, much of which is plastic. There are already some great examples of recycling and recovery projects in Cornwall that contribute to the circular economy, such as the Kimo Fishing for Litter scheme, fishing net recycling projects and the Finisterre bottles to clothing initiative. Used as models of best practice, these and other schemes, showcased on Ocean Plastics Awareness Day, could then be rolled out in other parts of the country.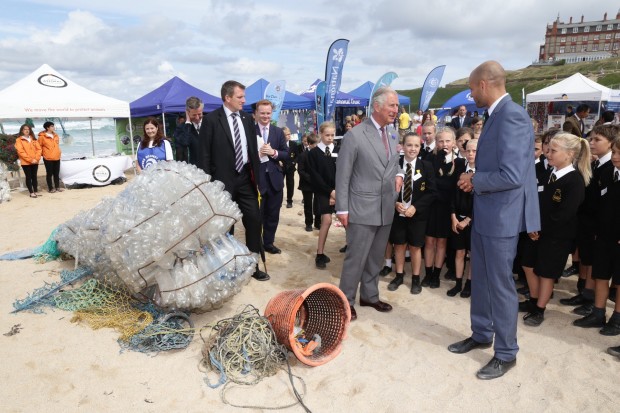 Ocean Plastics Awareness Day – Statement of Intent
Cornwall – A Circular Economy Model For The UK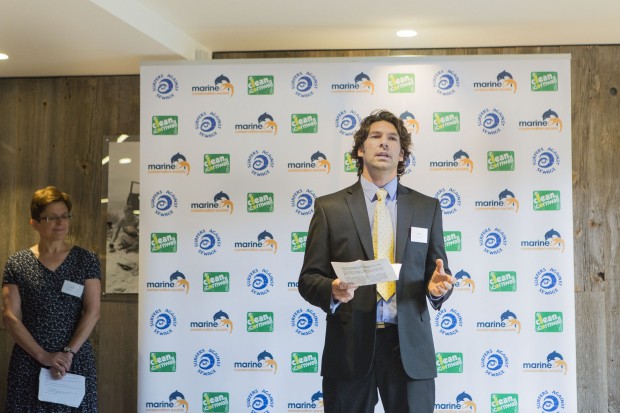 Cornwall has some of the most beautiful beaches and countryside in the UK. However, all too often they are blighted by litter. Signatories will support, explore and develop innovative circular economy pilot projects including:
Reduction of Single Use Bottles: Increasing the number of accessible water fountains, for example at beaches, other tourist spots and university campuses, supported by additional voluntary action by café owners to give a discount to customers bringing their own reusable drinks containers. Other measures would be to improve plastic bottle recycling schemes in these locations, including introducing deposit return schemes and provide access to free re-useable drinks bottles.
Fishing Net Collection & Recycling: The implementation of further innovative fishing net collection and recycling schemes to produce high quality, fully recyclable products such as carpet tiles and skateboards.
Plastic Product Innovation: Working with industry to close the loop on plastic marine litter by developing and delivering innovative collaborations to reuse (marine) plastic waste as part of useful, durable and recyclable products from clothing to car parts.
Exploring and extending these schemes and some further simple actions could help to dramatically reduce the amount of litter across Cornwall's beaches, countryside, towns and villages. Used as models of best practice, similar schemes could then be rolled out in other parts of the country.
The following organisations have signed the Statement of Intent:
Surfers Against Sewage
The Marine Conservation Society
Clean Cornwall
Cornwall Rural Community Charity
Cornwall's Fisheries Local Action Group
Plymouth University
Plymouth University Marine Institute
Plymouth University – Sustainability & Surfing Group
Newquay Junior Academy
Finisterre
Keep Britain Tidy
Riz Boardshorts
The UK Deposit Alliance
World Animal Protection
Interface
Cornwall Wildlife Trust
Divers Against Debris
The Cornish Seal Sanctuary
The Zoological Society of London
Ecover UK
Marine Litter Campaigns
Surfers Against Sewage works with approximately 15,000 community volunteers annually to tackle marine litter and campaign for the protection of the UK's waves, oceans and beaches. The organisation has 60 Regional Representatives leading strong and engaged coastal communities around the UK. The charity recently published the Marine Litter Report mapping out actions and solutions to the marine litter crisis over the next five years. The Marine Litter Report sounds the alarm for the UK's trashed tidelines, highlighting the environmental impacts on marine ecosystems and wildlife, and the unaffordable costs to industries including fisheries and tourism.
The report was launched at SAS's inaugural Protect Our Waves All Party Parliamentary Group in October 2014 and calls for cohesive anti-marine litter measures from all sections of society including community action, increased company responsibility and new government legislation.
Hugo Tagholm, Chief Executive, Surfers Against SewageSurfers Against Sewage campaigns tirelessly to protect beaches around the UK from the growing threat of plastic marine litter. Cornwall has some of the most impressive coastline in the UK, with award winning beaches, unique marine habitats and many sites of special surfing interest, which are now the focus of the growing community effort to tackle marine litter. Annually, Surfers Against Sewage not only works with over 15,000 grassroots volunteers to remove plastic waste from the beach, but is also collaborating with pioneering projects to use waste plastics as a key resource in producing new products, from skateboards to carpet tiles. We are delighted to be part of a collective shift towards a circular economy to protect Cornwall's beaches from plastics, which should be seen as a valuable resource rather than unwanted waste that society can simply discard.
Article courtesy of SAS (Surfers Against Sewage) and Image credit: Greg Martin